Это английская версия. Если вы хотите прочитать этот пост на русском, то вам сюда: http://fionaa.livejournal.com/704289.html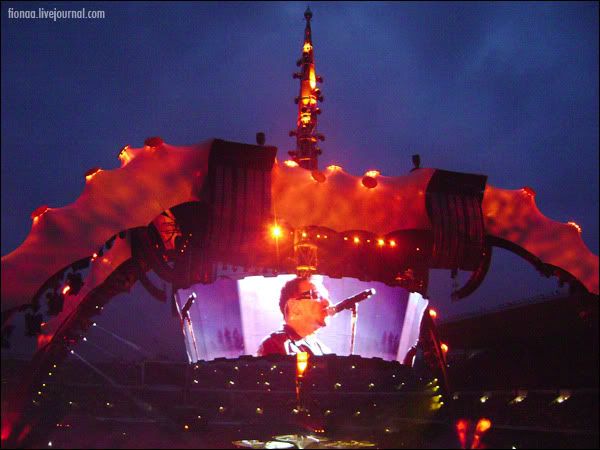 We bought seats for the second concert in Helsinki. The ones which were closer to the stage – backstage ones. That's why we didn't need to hurry, since we had the whole day. Of course I wanted to get to Kamp hotel to catch U2 when they were going to the stadium. But we went to some district which were pretty far from the center of Helsinki where we found outlets with alot of cheap clothes. I stuck in a fitting room for a long time trying gold and silver leggings (I adore Finnish fashion!) and other stuff. With huge bags we went to the rest of shops of that 3-storey shopping center. Then on the first floor we found this t-shirt:




I took it on right there.




The way back seemed too far so we decided to go by metro. But even the fact that Kamp hotel was 5 minutes walk from our hotel didn't help us. We went there anyway, but by that time U2 already went to the stadium.

We decided to go to the stadium by 20-00. I really don't like to be late so I was worried again about time. On the way there we met alot of people who went to the concert. Almost everyone decided to go there by that time. But on the half way it started raining a bit. We didn't pay attention to it before it started raining for real. We took on plastic raincoats as well as all people around. The rain was really strong. There was like a parade of plastic-bag-people in front of the stadium.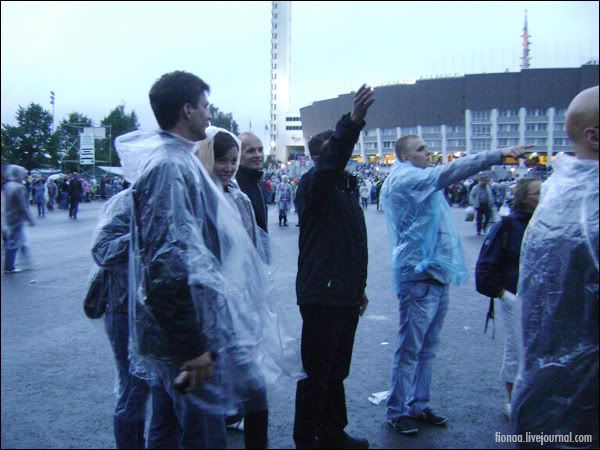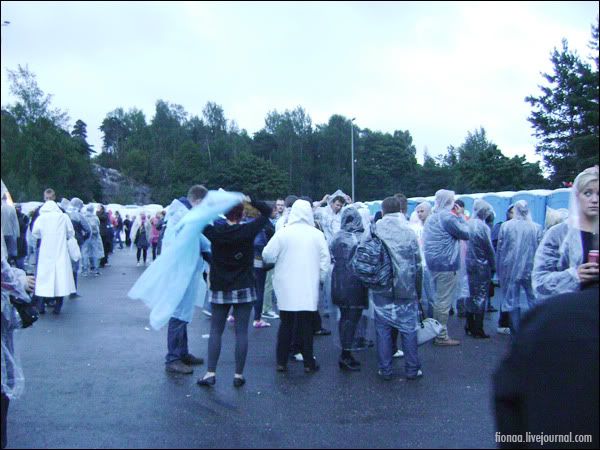 We went up to our seats, but it was all wet and it was still raining so we like other people went back down to find some roof where we could hide from the rain. It wasn't nice to stand there, that's why later we decided to come back and seat. The view from our seats were great.




Fans were waiting patiently and workers was wiping the stage off the water carefully.




Meanwhile the tribunes was getting filled pretty quickly, almost all seats were taken.




This time U2 were not long in coming and they appeared on the stage even a bit earlier. The first surprise in the setlist didn't keep us waiting too. The second song was I Will Follow. It was this tour's debut, it wasn't performed before. It created a different atmosphere for the whole concert immediately. Acoustic version of No Line On The Horizon wasn't good enough this time. They messed it up a bit and they confessed that they did. The next song made me numb and it made me hold my breath during the whole performance. It was Every Breaking Wave. It was a brand new song that was never performed before. And I fell in love with it right away. I was impressed with the lyrics. It seemed very close to me.

«I don't know if I'm that strong
To be somebody, to need someone».

Amazing wording. I adore such songs. I really hope U2 will record a studio version (or many they already did). By the end of the song they improvised a little, Bono told Edge to break down the chords to the middle eight again. So in the end they didn't finish it properly, they left it as it was. Bono added: "No-one has heard that before. Not even us."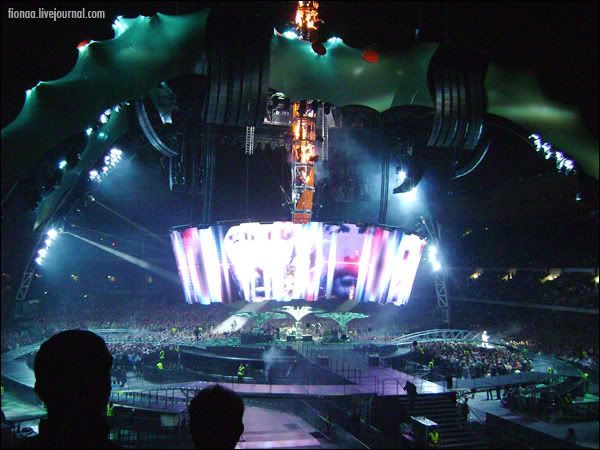 There are concerts which are absolutely perfect. When each song is performed perfectly without any mistake. You can call such concerts masterpieces, but sometimes they can seem a bit too sweet. This one was like that. Bono about three times forgot lyrics, started singing too early or a wrong chorus. Later they were laughing at it themselves. I think it's so cute. It makes a performance real. It creates a close and real atmosphere. And many thousand stadium turns into a small club where audience can see performers' true emotions and their reaction on everything.

After City Of Blinding Lights they sung Singing In The Rain. It fitted great, because it started raining again and people on tribunes started wrapping themselves in raincoats. Pride (In The Name Of Love) was a debut of this concert too, this song wasn't performed for a quite long time. It sounded more than wonderful.




Before the encore Bono was joking: "Now we'll leave and come back… after 13 years". Since the rain didn't want to stop Bono sung Rain (it's a different song) after One:

"Rain, I don't mind,
Shine, the weather's fine.
I can show you that when it starts to rain,
Everything's the same,
I can show you, I can show you.
Rain, I don't mind."

By the way, there were really lovely umbrellas on the stage which covered equipment from the rain. They weren't there at the first concert.




Setlist surprises weren't over. The next surprise was Hold Me, Thrill Me, Kiss Me, Kill Me. It was so awesome that I can say that it impressed me more than Ultraviolet. Bono impressed alot too. He jumped on the rounded microphone thing and started hanging on it like it was a bungee with his in front of him. I was so impressed that I even didn't recorded it. What a fearless man! I respect him to no end! Someone told me that we wouldn't see something like that anymore because of the surgery he underwent. "What doesn't kill you will make you stronger".

Someone could record it. I've cut this moment and uploaded:



Oh, I've also found a GIF (another angle):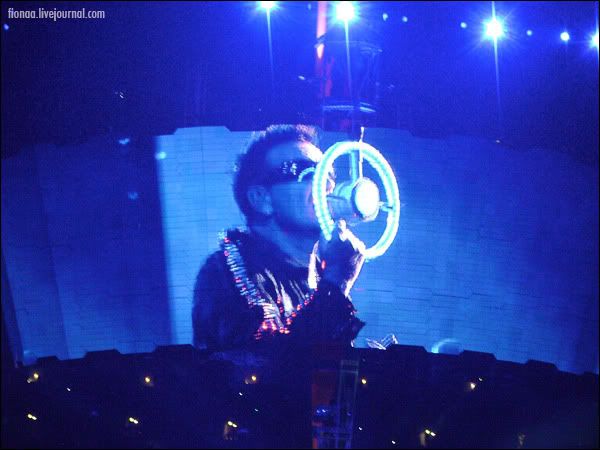 After With Or Without You the rain was really pouring. My jeans was soaking wet. After the final Moment of Surrender all four went on stage to say goodbye. Bono thanked everyone for being so kind to wait patiently for so many years and for being so kind to wait in queue in the rain. They were about to leave and then suddenly Bono started singing Singing In The Rain a-capello. Guys joined him and they were singing:

"I'm singin' in the rain
Just singin' in the rain,
What a glorious feeling,
And I'm happy again.
I'm laughing at clouds
So dark, up above,
The sun´s in my heart
And I´m ready for love.

Let the stormy clouds chase.
Everyone from the place,
Come on with the rain
I have a smile on my face.
I'll walk down the lane
With a happy refrain
Just singin', singin' in the rain.

Dancing in the rain.
I'm happy again."

I think it was the most moving moment for the whole concert. At least for me it was. It was the final song they were singing together without music and it fitted the best and it was warming hearts of everyone who got wet in the rain.

I told that Bono had a good mood at the previous concert. But at this one it was even better. They rocked just fantastically. They were laughing, joking. Someone on the forum said that probably Bono felt bad for people who had to stay in the rain for so many hours so he compensated it with a brilliant show, because the audience deserved it. Also Bono added that his "little girl" Jordan was at the show that day.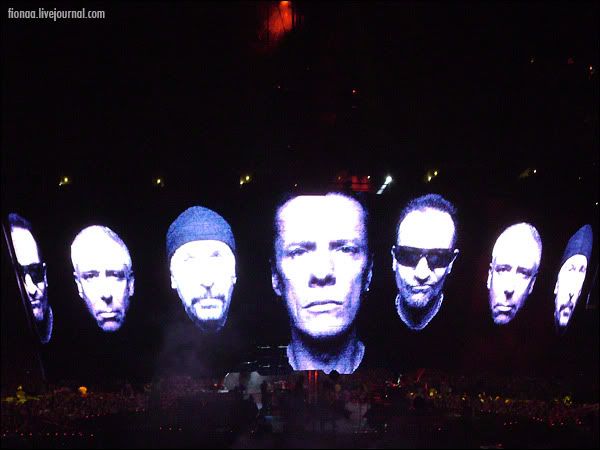 But I can't help but say that there were thing I didn't like at that concert. Even though we were sitting pretty close to the stage and sometimes we could see Bono who came to our side, it wasn't the same like it was at the first concert. I hadn't that feeling I had when I was in the pitch. People next to me was sitting like they came to listen to an opera. They were sitting steadily, they weren't standing up and they were applauding like a little but. No one screamed in our sector, no one sung along. I believe that these people like U2's music and they came to enjoy it, but I love to get strong emotions from concerts. I didn't have it here.

Also surprisingly the concert seemed to be really short. It started earlier, but it ended at the same time as the previous one. And it felt like it was shorter. Probably when you sit, songs go faster or probably it was just a weird thing. But we even didn't notice how the concert was over.

But view from out seats was definitely amazing. I've never had seats before so I've never seen how beautiful The Claw is. My mother has already seen it, but for me it was the first time so I often told her: "Look, how beautiful!".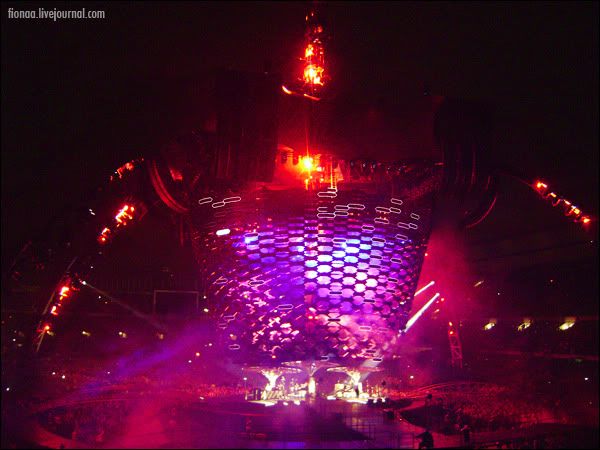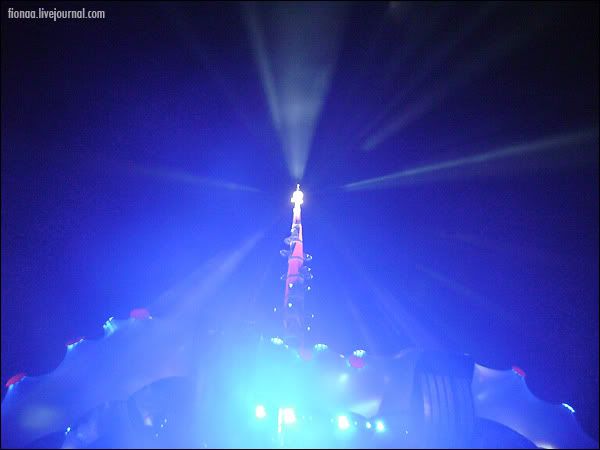 P.S. While I was writing this entry I listened to No Line On The Horizon about 5 or 6 times. I don't understand who people don't liket his album.

P.P.S. I was replying
bluesteel_44's comment and I remembered one more moment I wanted to mention in the entry, but I forgot. Bono sang some sound a-capello (just for fun) like "Aaaaa" and audience repeated that sound. He was surprised and sang it again – audience repeated it again. We did it some times and Bono said laughing: "I don't know what this sound was for, but let's dedicate it to something good" :D

P.P.P.S. And one more fact I forgot. Bono had absolutely amazing vocal at this concert. He sang high notes perfectly and he was singing better than I've ever heard live. I got goosebumps from opera part in Miss Sarajevo, because he sang it brilliant!!

P.P.P.P.S. While I was translating the entry I got more moments from the concert. Again those ones I forgot to mention. There was one absolutely magical moment during I Still Haven't Found What I'm Looking For. Audience was singing SO good that Bono was impressed, it got him almost to tears and he said: "Wow! It was special. Thank you!"