Это английская версия. Если вы хотите прочитать этот пост на русском, то вам сюда: http://fionaa.livejournal.com/543695.html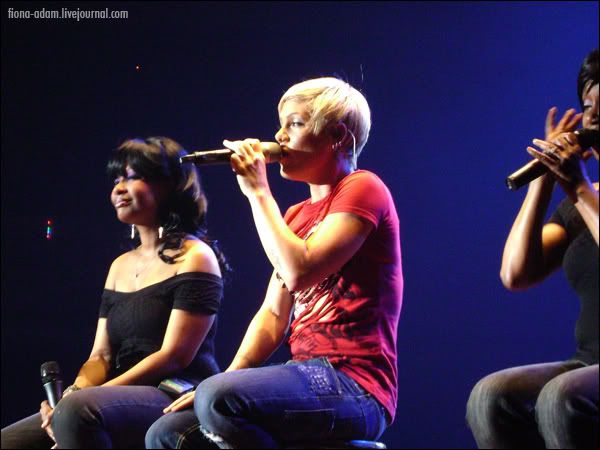 When we'd just bought tickets for P!nk concert I felt like I would be wait for ages. Although it really was like that, cause it was more than half of the year to wait. But this time passed away so quickly that I even didn't notice how this moment had come when we had to departure. Funhouse is ingenious album from the first song till the last one, that's why my waiting was nice, because I knew she would sing all those gorgeous songs. We arrived to Frankfurt the day before the concert. The city met us with rain, that's why we spent the evening in the hotel. Early in the morning the sun rose and Main river started shining so we could see sun rays through the window. We went outside at about 8:30 AM. We went walking along a beautiful district of Frankfurt. We'd found Festhalle and saw this signboard:




When we went around all skyscrapers we decided to find an entrance to the arena. We'd found it. Next to the gate girls with colorful hair and boys were sitting right down on the ground. Obviously they were having a breakfast sitting on seats they brought with them and on their jackets. One girl screamed something to us in German, but it remained a mystery to us. I got a bit disappointed because of those guys. Because it was about 11:00 AM or 12:00 PM, but they already were keeping their places. That's why I got a bit nervous thinking I wouldn't be able to get a good place.

Back in the hotel we got a really good rest. We went to the arena at 5:00 PM. The gate already was open and a wide crowd was standing near the entrance. But there weren't too many of them. That's why we humbly took our place in the queue. We were standing there for a long time. It was cold. Only these things were entertaining us: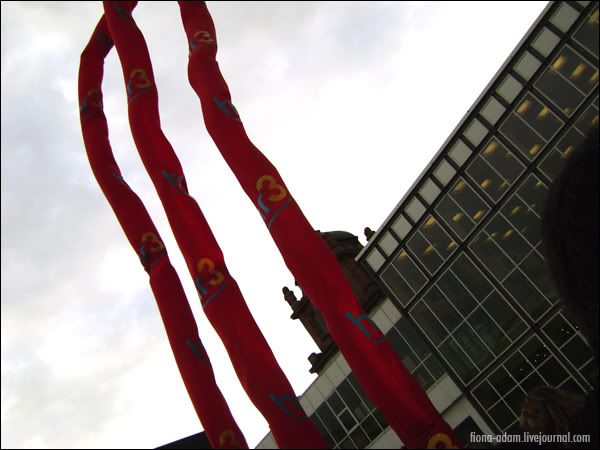 But people were arriving and arriving. It was getting more and more of them. After some hours they finally let us enter. Helter skelter people ran into the hall. Carelessly I throw away my coat and ran in the same direction. Looked around the hall I noticed that almost all places near stage were taken, but somehow I got lucky to one of the best places. It was right in the end of the B-stage. I was in the very first row next to the stage holding a metal bar in front of me. There couldn't be a better place! I was really happy to be that close to P!nk for the second time.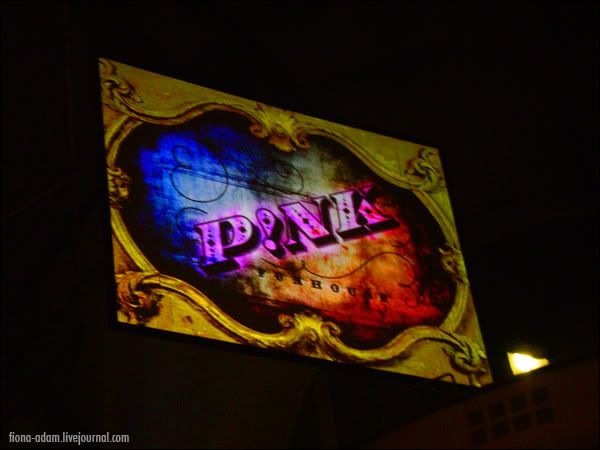 Being already inside we were standing a long time again. People sat down on the floor and wait. I preferred to remain standing.




Exactly at 8:00 PM the light was turned off. A band called RayGun was performing as a support act. Actually they had to get public in an active mood, but they kept getting us sleepy. Their songs weren't annoying, but it was boring anyway. In some moment I even felt sorry for them, because they were trying so hard, but people just didn't care, they even didn't applaud. But then it got a bit dragged out, because they were singing for too long. I even thought: "Are they gonna sing all songs from their album?". People got active only when the lead singer was asking: «Are you looking for P!nk?». The lead singer was some kind of an emo-boy in a green tight pants. But people got extremely excited when RayGun finally left the stage :D

Diva appeared not ordinary. At first the video starring her was on the screens (it was made specially for the tour). Highway to Hell Intro. How she's sleeping, waking up and in the end she's on her motorbike.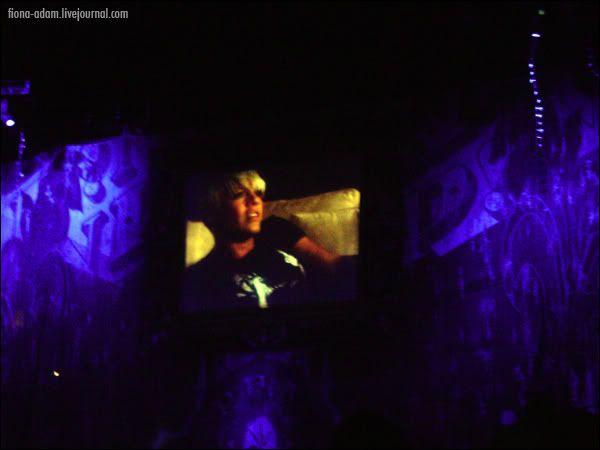 And while everybody absorbedly was staring at screens she surprised everyone with her appearance. She appeared right from my side. From the end of the B-stage. They pulled her out from the trapdoor on ropes and she was flying above the stage in the stunning costume.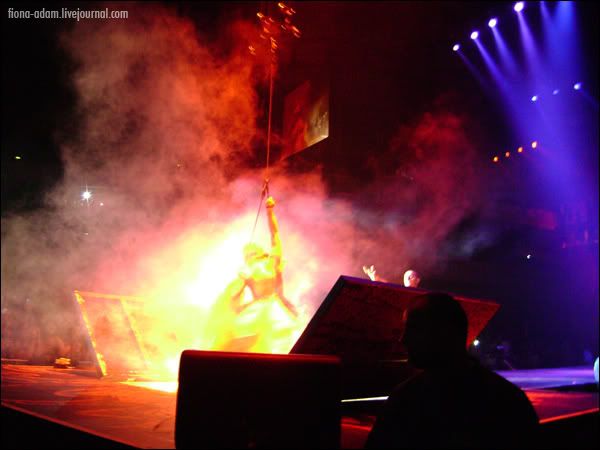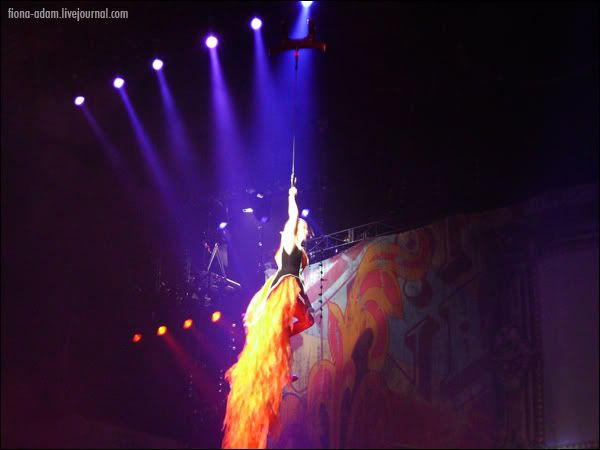 Do you think it's possible to hear P!nk, Queen, Led Zeppelin, Gnarls Barkley and Divinyls at one concert? It is possible! If it's P!nk's concert!

The concert was opened with Bad Influence. It's a good choice if to consider that it is perhaps the funniest (according lyrics) song on the album. I got a bit weird feeling when everything was started. It's hard to describe.

The setlist was great, there is nothing to add! P!nk sang all songs from the album Funhouse expect Mean. It's some kind of a high score I can say, usually singers don't perform all songs from one album at concerts. And plus when she added songs from old albums and covers we got a fantastic mix. There was 23 songs if I'm not mistaken.

The show… I guess I should've written about the show in the first place. P!nk rose herself on the amazingly high level. It is level of so high-qualified performance that I can get on my knees for her. U2 are telling everyone about their amazing show, but P!nk didn't claim herself that way, but her show was even more than just amazing. She did better than she ever did. It's not just a concert, it's exactly a good planned show full of small important details. I think neither words, nor photos can give a full clue of what it was, but it only proves how cool it was.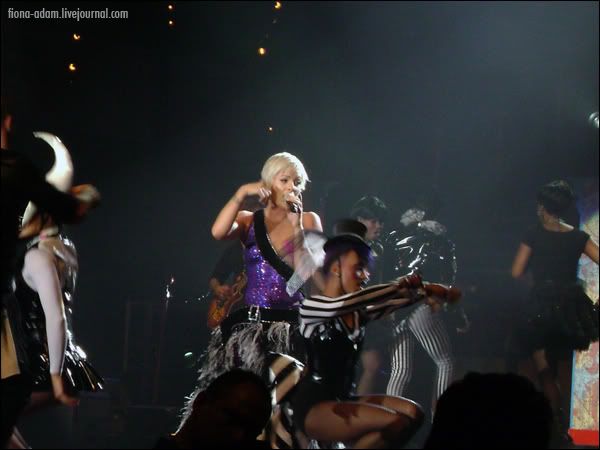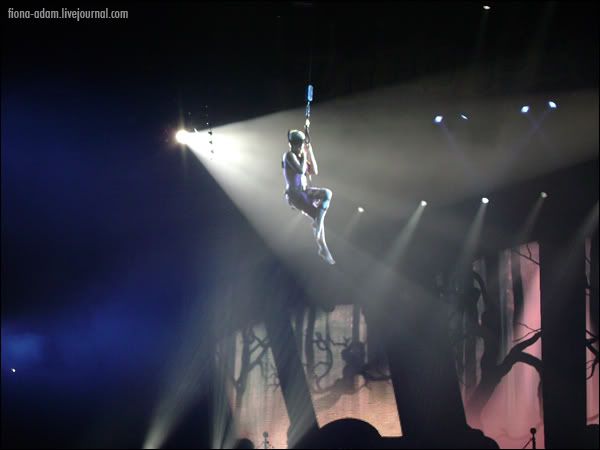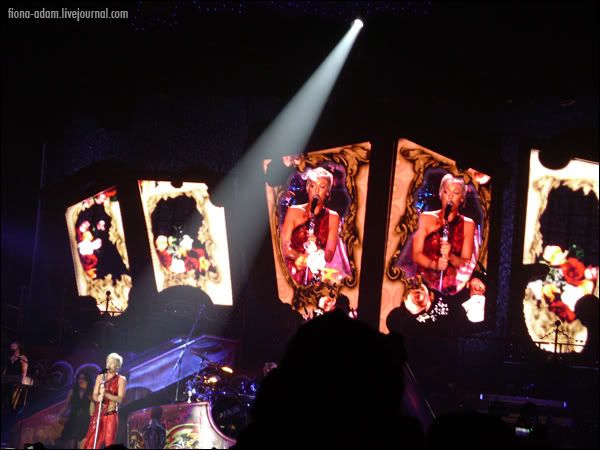 There is definitely a big difference between attending the concert and watching the same concert on DVD. Because attending the concert you can see more. Even though you watch from one particular angle you can see all dimensions, you can catch with your eyes the grandiosity of what is going on, its scale and size. You see it all with your eyes, but not through eyes of some director who decides what part to show you. And if to talk about a DVD from this tour I guess many things will be absent on it. P!nk sang too many covers, but they usually get cut and deleted.

About songs. I Touch Myself is a very sexual and profound song, because lyrics too much fit P!nk. Sober she was singing upside down hanging from the roof, but the song sounded great anyway. We were waiting for So What for so long and mother later even said: "I thought she decided not to sing this song anymore since she and Carey are together again". I think many people were waiting for this song, but it was almost in the end. As well as Funhouse which was in the end. Bohemian Rhapsody got me really crazy and excited. I even got goosebumps. When back vocal started singing the intro I thought it was just only intro, but when P!nk came out and started singing the song I was shocked and pleased. Such song being performed by a favorite singer!! I'm speechless. Family Portrait one more time was performed with so much feelings that it seemed like she was going through all that again and again. And again it almost made me cry. She was singing it very emotional.

I guess it's unnecessary to mention about her vocal. When she took notes where we can hear those familiar traits of her voice I felt like my heart was sinking. Adore. Exactly in Family Portrait she had absolutely amazing vocal. Well, actually P!nk never sings bad, but it still surprises how she's able to so actively move and sing so well as well. She has an awesome voice whatever you may say.

During Crystal Ball she was sitting really close to us. She was barefoot and joyful. She was joking alot, reading fans' posters and catching stuffed toys people throw to her. She even put one pretty frog on her knees.

For the first time I may say that concert was a long one. Usually you have a feeling like "Oh, it was so short", but this time it wasn't like that. There were three moments when everybody seriously thought that it was the end of the concert. But P!nk surprised us appearing again in a new costume. During one of such moment there was a glitter shower.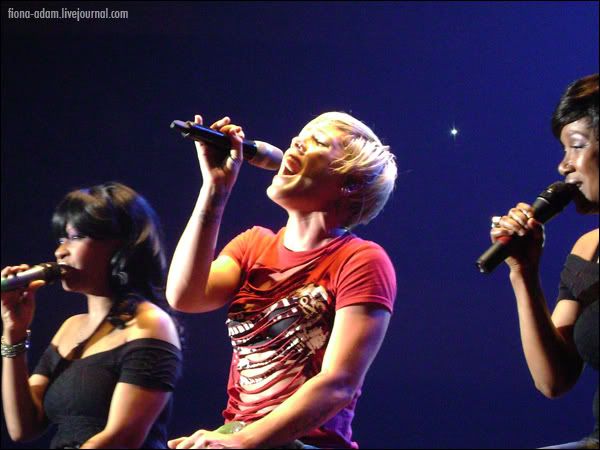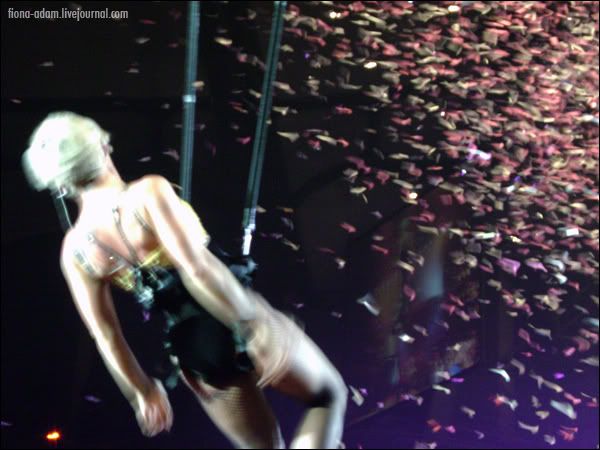 During the other one there was a countdown on the screen.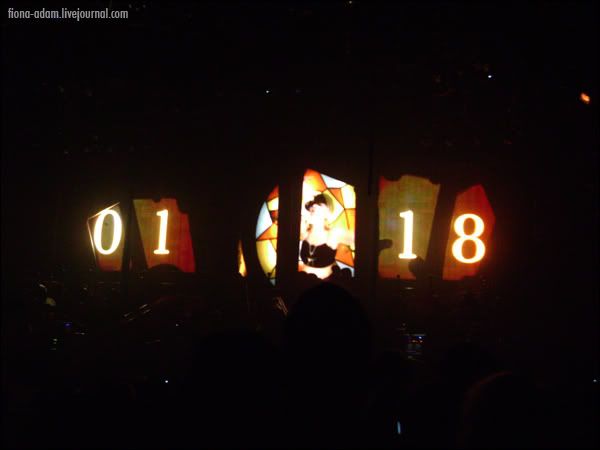 Concert was closed with Glitter In The Air. It was really impressing. P!nk was pulled down into water which was in the trapdoor from which she appeared in the beginning of the concert, and then they put her up and spun above the stage. There were splashes of water from her going around and above and they were sparkling in the spotlight. Yes, it's what called Glitter In The Air. Such an original idea.




Then they turned the light on and happy crowd slowing was going out.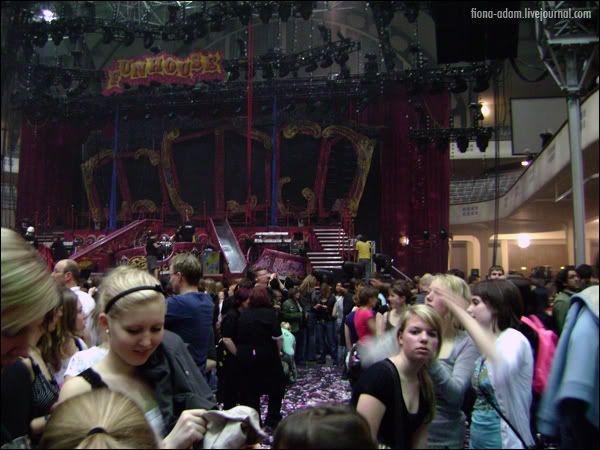 Then we were queuing to buy some P!nk-related things, but I'll write about later. And I'll show. Of course I've bought posters and some nice things for the memory of the concert.

Thanks to Frankfurt, thanks to good organized German people and thanks to so much talented P!nk I admire for such amazing evening.

P.S. I took alot of pics. 133 of them you can see on the site in the gallery. They all are in a chronological order of the concert: http://piink.net.ru/gallery/thumbnails.php?album=488